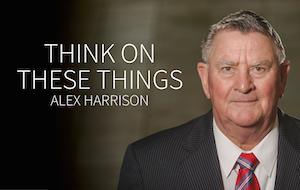 About 20 years ago I heard a sermon at a Feast of Tabernacles that was given by a visiting minister. The subject was prayer. That sermon was one of the most effective I have ever heard on this subject. What made that sermon so effective was the example he gave of his prayer list. The minister reached into his jacket pocket and took out a small notebook, his "prayer to-do list," and began discussing the various things he needed to pray about, especially for his congregations. This minister's prayer list really impacted my mind and encouraged me to keep a detailed prayer list.
I have often been asked over the years, "What do I pray about?" Some say, "I don't feel like praying," or "I can't pray for more than 10 minutes." These are very real problems for sure! What about you? Even Christ's own disciples implored their Master, "Lord, teach us to pray" (Luke 11:1).
The ability to pray is not instinctive. In the case of a person who wants to pray but can't think of things to say, we know that, as Christ said, "[T]he spirit indeed is willing, but the flesh is weak" (Matthew 26:41). That is no excuse, however. Christ also said that "men ought always to pray, and not to faint [lose heart]" (Luke 18:1).
1 Thessalonians 5:17 says, "Pray without ceasing." How can we pray without ceasing, or pray without losing heart, or pray continually, if we are not able to sustain 10 or so minutes of earnest supplication before our minds go completely dry? The answer is simple: Plan your prayers.
I am not addressing the mechanics of how to pray, such as what the best position is. I am talking about the simple problem of trying to pray yet being unable to think of anything to say.
The solution is a simple one, yet ignored by many: Ponder what to pray about! Make a prayer list.
As you see a need or hear of a problem, write it down. Put your list in front of you when your prayer time comes. Your prayers are important to you and God, and they deserve to be properly planned.
Making a prayer list will force you to think about the needs of others, of your needs, and the needs of God's Work and God's Church. This will ensure that when prayer time comes, you will focus on the important things. Your list will serve as an automatic memory. Often I will say to someone after some very specific counseling, "I will pray for you." You don't want to forget your promise; that's where your to-do list of prayer comes in.
You may want to use a notebook with a separate page for each category. You may choose to divide your categories according to Matthew 6:9-13. Get detailed. Don't write "pray about the Work." Get out the Philadelphian and write down specific details about the Work—e.g. the Key of David distribution, call-center operators, literature requests, names of people involved, production, subjects for Pastor General Gerald Flurry and his inspiration, etc. Focus perhaps on two or three areas of prayer, then move on to others.
Review your prayer list every week. Update it. Don't be trapped in repetition; don't just read out your list to God—that's a pitfall to avoid. Your prayer list is for planning your prayers, but don't think that you can only pray about what's on your current prayer list: You can pray about spontaneous thoughts and ideas too.
God is a planner. To be effective, we should all plan to be mentally prepared in what to say to Him in prayer. For many this may be a small step, but you will find that your prayer life will take a giant leap!
If you don't have a prayer list, begin now. You will find it a very effective way of planning your communication with God and improving the power of your prayers. Instead of asking, "What am I going to pray about?" you will be asking yourself, "When am I going to get the time necessary to pray about all these things?"
James 5:16 states, "The effectual fervent prayer of a righteous man availeth much."
Work on your prayer list in order to develop effective, heartrending, fervent prayer in this last hour!
Someone once said, "I don't feel like praying." The answer to that statement: "Talk to God about it." Remember, the more you pray, the more you will understand about how to pray and the more heartfelt and joyful it will be. Think on these things.