The Philadelphia Church of God
The Apostle Paul wrote that Jesus Christ would "purify unto himself a peculiar people, zealous of good works" (Titus 2:14). Those words aptly describe the members of the Philadelphia Church of God. It is an eclectic people, of every age, race, educational and socio-economic background, from around the world—yet all dedicated to living by every word of the Bible.
The pcg, incorporated in 1989, started humbly and small—with 12 members, but has grown into a worldwide organization carrying out a worldwide work.
Through this website, our Key of David TV program and our world news and analysis magazine, the Philadelphia Trumpet, and its companion website, theTrumpet.com, we are reaching hundreds of thousands of people with the inspired message of the way of life that is the cause of all good—of love, peace, happiness, prosperity, abundant well-being—the truly successful life. All these are offered free, as a public service to you.
The Philadelphia Church of God has no political agenda. What we do have are answers to the problems that plague our society today. We look to God for those answers. You need to know these answers.
We can't squeeze all of what we do and stand for in one page, but you can find more about our work, history and beliefs by browsing the categories in this section. We offer many publications for free which you can find in Resources.
To read more about the activities of the Philadelphia Church of God, click here.
For more information, please download our brochure: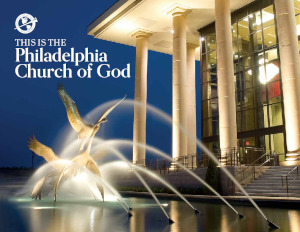 Contact a Minister
Contact form »
Headquarters Address
United States
P.O. Box 3700
Edmond, OK 73083
Mailing Addresses Worldwide
Canada
P.O. Box 400
Campbellville Ontario L0P 1B0
Canada
Caribbean
P.O. Box 2237
Chaguanas
Trinidad and Tobago
Latin American
Attn: Spanish Department
P.O. Box 3700
Edmond, OK 73083
Britain, Europe, Middle East
P.O. Box 16945
Henley-in-Arden
B95 8BH
United Kingdom
Africa
Postnet Box 219
Private Bag X10010
Edenvale
1610
South Africa
Australia, Pacific Isles, South & Southeast Asia
P.O. Box 293
Archerfield QLD 4108
Australia
New Zealand
P.O. Box 6088
Glenview
Hamilton 3246
New Zealand
Philippines
P.O. Box 52143, Angeles City Post Office
Angeles City
2009 Pampanga
Philippines