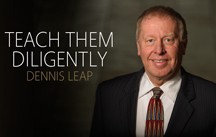 I remember that just before the Feast in 1980 or 1981, we were encouraged either by an article or a sermon to teach our children how to give to others at the Feast of Tabernacles. At that time we only had our first two daughters, Rachel and Eyren. Our family always looked forward to spending the Feast at our assigned site in Spokane, Washington. The Feast that year proved to be extra special.
Before we left for the Feast, we explained to the girls that we wanted them to learn about giving during the Feast. Although some of the details are a little sketchy in my mind, I know we decided that they would purchase some candy to give to others during the Feast. When we arrived in Spokane we searched for a candy store near Spokane's famous carrousel. Rachel and Eyren were not only thrilled to be going shopping—they were shopping for candy! From all appearances, they were equally excited to give their valued purchases out to others. And they were really pleased that we allowed them to give their candy to whomever they decided.
I remember how much fun it was to see our girls get into the spirit of giving. Because Eyren was several years younger than Rachel and stayed close by us, I was able to observe her somewhat more. She would open her bag and allow her little friends and even adults, to take a piece of her candy. Each time she opened her bag to give away a piece of candy she would simply light up with the biggest grin on her face. It was very thrilling to see her give so eagerly and generously.
Naturally, after a few days, each of the girls' candy supply was getting low. However, I noticed the girls were still out there giving. Neither seemed to show an attitude of holding back their candy. After one of the morning services, Mr. Gerald Flurry happened to stop and speak to our family. He was our local pastor at that time. He bent down to greet Eyren (she was about 3 or 4 at that time). Unabashedly she pulled out her candy bag and offered Mr. Flurry a piece of her treasure. He reached into the bag and pulled out a square piece of wrapped bubble gum—it was her last piece of candy. Things suddenly got interesting.
Mr. Flurry mentioned to Eyren that it was her last piece of candy. The realization hit her hard. She was surprised that her candy bag was empty. Huge tears welled up in her big blue eyes. Mr. Flurry, sensing the tension of the moment, graciously thanked her for the candy but reassured her that he would not take her last piece. What happened next truly astounded all of us standing around this little girl.
A Time for Giving
As parents, we must recognize that the Feast of Tabernacles is a time for both adults and children to learn how to give to others. In fact, the best Feasts ever are built upon the foundation of giving, which means serving and sharing with others.
The principle of giving to others at the Feast is well established in the Old Testament Scriptures. Deuteronomy 16:16-17 show that we are commanded by God to bring a special offering to Him for the sake of His Work on the high holy days. Using David's example, Mr. Flurry has taught God's Church more than once that there is nothing more exciting, joyful and honorable than giving an offering to our great God (1 Chronicles 29:14-17).
The Bible shows that giving is learned best within a family setting. "Thou shalt truly tithe all the increase of thy seed, that the field bringeth forth year by year. … And thou shalt bestow that money for whatsoever thy soul lusteth after, for oxen, or for sheep, or for wine, or for strong drink, or for whatsoever thy soul desireth: and thou shalt eat there before the Lord thy God, and thou shalt rejoice, thou, and thine household, And the Levite that is within thy gates; thou shalt not forsake him; for he hath no part nor inheritance with thee," Moses wrote (Deuteronomy 14:22, 26-27). He taught ancient Israel (and us) that God commanded the head of every family to share their hard-earned second tithe with not only all of the family, but others outside of the family. Fathers (and mothers) are you setting the example of being a giver?
Giving must extend beyond our immediate families. Although not specifically mentioned in these verses, besides the Levites (ministers), widows and orphans—outside of our immediate families—should also be well taken care of at Feast time. (See the principles established with third tithe in verses 28-29. Study also Deuteronomy 16:13-17 and James 1:27.) Helping widows and orphans is God family giving.
Of course we know that excess second tithe—issued as second tithe assistance from headquarters—is used primarily to support the widows and orphans at the Feast. However, paying for a special meal for those less fortunate is in keeping with the principle of giving commanded during the Feast. Do you and your family look for ways to help those less fortunate at Feast time? God always does.
Thoughtful Giving Is Taught
God gives to all of us perfectly. He is unselfish. It is a matter of law for God. He willingly chooses to obey His law of love. Children (and adults) are naturally selfish (Romans 8:7). Children must be taught to give to others—it doesn't come naturally. Extreme selfishness is one of the most serious problems of our time (2 Timothy 3:1-5). Every year at the Feast we are given another opportunity to prepare to change this evil world by growing in our giving to others—as God gives to us.
God is a thoughtful giver. He thinks out and plans how He is going to give to us. So you must plan out how to teach your children the principle of giving at this year's Feast. Giving requires determined action until it becomes a habit. Of course, this means you must set an example for your children by not only giving to them but to others—ones you know and ones you don't know. Remember, God even loves, gives and serves His enemies (Matthew 5:44-45). So we should not be opposed to meeting, giving to and serving God's people whom we have never met. Keep in mind that it should be your goal to teach your children to become a giver like God is a giver (verses 46-48). To do so will take thoughtful planning on your part.
Be sure to arrange a time to discuss with your children your plan to teach them how to give at the Feast. You could do this during a family Bible study or even on your way to the Feast. Be sure to engage your children, especially pre-teens and teens, in the discussion—ferret out their ideas and suggestions on how they think they could give to others. Make sure your plan is age appropriate. Giving little treats to others is a great way for smaller children, but not likely very exciting for teenagers.
Merely discussing giving with all good intention is not enough. Be sure to put your plan for giving into action. "I have shewed you all things, how that so labouring ye ought to support the weak, and to remember the words of the Lord Jesus, how he said, It is more blessed to give than to receive" Paul taught the Ephesians (Acts 20:35). Notice that Paul emphasizes here that giving is a labor of love. It takes work and effort on our part to give to others. If it is your plan to take a widow out to a restaurant during the Feast, set the date and time and then follow through and invite a widow to have a meal with you and your family.
God guarantees that you and your family will receive blessings from this loving labor.
Paul used the Greek word makarios translated as blessed in this verse. The word makarios can mean happy or happier. While you talk with your children be sure to stress with them that working to give to others makes one a truly happy person. Working to give provides mutual benefits to the giver and receiver. The more effective we become at giving—the happier we become. Realize that it is likely that Jesus Christ personally taught this Bible principle to Paul by special revelation. You cannot find the expression it is more blessed to give than to receive anywhere else in the Bible—making this a very special verse.
Give Your Time and Interest
In your plan to teach giving at the Feast, be sure you emphasize the importance of giving God and His Work an offering. That is the first and most important lesson of Feast giving. Have you discussed with your children the vital importance of giving offerings? If you have—wonderful! If you have not—there is still time. Let's not be negligent in this area. If we are, we could be denying our children access to incredible happiness and joy.
To teach your children giving, you do not need to spend a lot of money on material things. We must be careful that the Feast does not become a replacement for this world's winter, materialistic holiday—Christmas.
Even the principles behind the proper use of second tithe show that purchases with second tithe should revolve around making the Feast bountiful and more enjoyable. Giving interesting toys to occupy the attention of young children in hotel rooms, or infants on the floor during services is appropriate. Nice but inexpensive jewelry, articles of clothing and perfume are more appropriate for older children, teens and young adults. We should avoid giving material things that cannot be used to enhance the Feast. Counsel with your local minister if you have additional questions about Feast gifts.
One of the most valuable things children can be taught to give is their time to others. Time is a very precious commodity for all human beings. As I watched my daughter give candy to adults, the thing that made them happy was the fact that this little child paid attention to them. The adults enjoyed spending time with her. Encourage your children to spend time with the elderly, handicapped and newcomers at the Feast. Greeting and talking to others is one the easiest and most effective ways to serve others at the Feast. There are other ways too.
Serving Is Great Giving
We must not underestimate the important need for service at God's Feast of Tabernacles. Think about this carefully. In the World Tomorrow God's Family will serve the world by bringing it peace, true education and ultimately rebirth into God's Family. We will assist Jesus Christ in bringing salvation to the world. Our children will have their place in that great Work. It makes sense that they must learn to serve others now.
The Feast of Tabernacles provides the perfect classroom. Teens especially should be taught to volunteer their services to the brethren during the Feast. We could never have the exciting, spiritually-uplifting Feasts that we all enjoy without the selfless service of many at our local Feast sites. Yet there is always the need for more help.
The opportunities for teens to serve at the Feast are unlimited. Teens are effectively used with activity setup and takedown, assisting mothers will small children, assisting the elderly, babysitting, hall setup and takedown, parking, and helping the handicapped. Teens who are more outgoing can even serve other teens by searching out and encouraging the shy, quiet teens to fellowship with other teens at the Feast. It is our sincere loving service to each other that sets us apart from all other groups of people in this world (John 13:35). Serving is always great giving.
When Mr. Flurry handed the piece of gum back to Eyren, my wife and I were surprised by what she did next. She hurriedly unwrapped it and gave a half piece of bubble gum back to him. All smiles again, Eyren still wanted to share what she had left with Mr. Flurry. She had learned the importance of giving. I could not have been more thrilled seeing her so happy to give.
Teaching giving to your children at this year's Feast (and year-round afterwards) always produces powerful blessings for both you and your children. Give and teach giving, and you and your family will have a truly blessed and happy Feast.