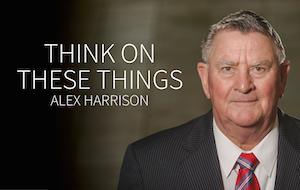 How often in this Christian life do we face challenges, a trial, or even a crisis of some size? How then do we view these situations?

Notice 1 Peter 1:6-7: "Wherein ye greatly rejoice, though now for a season, if need be, ye are in heaviness through manifold temptations: That the trial of your faith, being much more precious than of gold that perisheth, though it be tried with fire, might be found unto praise and honour and glory at the appearing of Jesus Christ." This is how God sees the end result of our battles in this life. God desires to give us praise, honor and glory! These are words that God has said. He, at His Son's appearing, wants each of us to have His praise, honor and glory!

Understanding this is very inspiring. This helps each of us understand 1 Peter 4:12-13 more deeply. Verse 12 says, "Beloved, think it not strange concerning the fiery trial which is to try you …." Fiery trial is from a Greek word literally meaning a burning or a smelting process. This process burns off the dross, produces humility, purifies and increases our faith, and enriches our lives. God keeps us in the smelting furnace until He can see the reflection of Christ in us. This whole process is about our future.
One Chinese proverb reads: "Crisis is an opportunity riding the dangerous wind." As Christians, we should view a crisis as an opportunity and stumbling blocks as stepping stones to the stars.
History is full of interesting examples of people who made their contributions to society by turning stumbling blocks into stepping stones. For example, the composer Ludwig van Beethoven was deaf. The poet John Milton was blind. The football player Tom Dempsey kicked the longest field goal in nfl history with half a foot.

What about the Apostle Paul? Read 2 Corinthians 11:23-33. Paul went from crisis to crisis, trial to trial, but turned these stumbling blocks into stepping stones. Note 2 Corinthians 12:7-10. Paul gained strength through the power of Christ in his trials. Verse 10 concludes with, "for when I am weak, then am I strong."

We also have a promise from God found in 1 Corinthians 10:13. Notice the love of God in a trial: "who will not suffer [let alone or leave] you to be tempted above that ye are able; but will with the temptation ['testing' in the Revised Standard Version] also make a way to escape, that ye may be able to bear it." God will turn these trials, tests and crises into stepping stones to take us to the stars.

Always keep in mind Christ's ultimate example in His greatest time of need. Read Luke 22:39-46. Verse 43 says, "And there appeared an angel unto him from heaven, strengthening him." God the Father sent help. Christ has been through more suffering than any man—more pain and heartache—and He did it for us. Christ is now at the right hand of His Father. Our Advocate wants to turn our trials into joy!

Christ will return very soon, that we know. All of us must gather strength from the storms ahead, strength from Christ, and strength from our Father.

We have a unique privilege in history. Christ in us will turn every stumbling block, every trial, every crisis and every test into stepping stones to the Kingdom of God, to the day when we will receive that "praise and honour and glory" from God.

Brethren, think on these things and see your trials as an opportunity to make stepping stones to the stars.