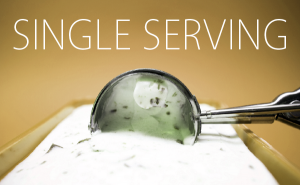 Typically a host serves and a guest receives. But the singles in God's Church are not typical.
When we held a singles winter weekend last year in the Pacific Northwest, the singles arrived as guests, but were ready to serve. More than purchasing a plane ticket and paying the activity fee, these singles made an investment in the Family of God.
The Apostle Paul wrote, "He which soweth sparingly shall reap also sparingly; and he which soweth bountifully shall reap also bountifully" (2 Corinthians 9:6). When you make an investment in serving, you reap bountifully. A heartfelt purpose to be a cheerful giver is a character trait God loves (verse 7).
"Carnally, we think sacrificing for another means we have to give up what makes us happy—but the truth is, giving to others is what makes you happy" (Single-minded for God). This holds true for every one of us. God sees our giving and our personal growth as a way to grow the whole family.
God gives us the physical seeds of opportunity and then evaluates if and how this produces spiritual character. As verse 10 says, sown seed is meant to increase the fruits of your righteousness.
What are the fruits in your life? Activities come and go, but are you really making a difference?
Here is one way to know: Ask yourself, Does my service inspire others to thank God?
What Serving Leads To
Notice this angle introduced in 2 Corinthians 9:11: "Being enriched in every thing to all bountifulness, which causeth through us thanksgiving to God."
An inspiring cycle can be experienced when these verses are put into play.
Sow bountifully, reap bountifully.

Put your heart into it.

Give cheerfully.

God then blesses you physically and spiritually.

You grow in righteousness.

It all culminates in knowing that God is the source, and we thank Him ultimately!
"For the administration of this service not only supplieth the want of the saints, but is abundant also by many thanksgivings unto God" (verse 12).
What a crescendo!
Our service in God's Work not only supplies the needs of the Work, but it builds our faith in God in the process and moves us to thank Him!
Consider: Have you ever prayed for something and God answered the prayer through another single in the Church? You needed something and asked God, and then a single supplied the need. Certainly you thank the single, but whom do you thank primarily? God!
Serving is an opportunity to participate in a process that motivates those served to grow in their gratitude to God!
Have you ever thought of it this way?
How about when children serve their parents in some way? Perhaps they "make breakfast" when they are 7 years old. The hard pat of butter is stabbed into the toast and the beef bacon is charred black. But it's the thought that counts, right?
Through their service, children can motivate a parent to thank God for them and for the gift of family relationships.
I noticed this in one of our Spokesman Club meetings last year.Half of the men missed due to illness and other reasons, so everyone doubled up on assignments, and impromptus abounded. We all came away so inspired by the men's growth and their service to each other. I personally found myself thanking God more than normal that night. The men's service actually increased my gratitude to God.
When we see others conquering fear, serving genuinely and cheerfully giving, it should increase our admiration for what God is allowing us to be a part of. We have a front-row seat watching conversion in action. And often we're participating more than watching.
As we have echoed the phrase so many times in the Philadelphia Church of God: It's not about you; it's about God!
Being single-minded for God is seeing and acting on opportunities that will help increase your fellow singles' gratitude toward God.
'This Is a Test … of God's Emergency Broadcasting System'
"Under the test of this service, you will glorify God by your obedience in acknowledging the gospel of Christ, and by the generosity of your contribution for them and for all others" (2 Corinthians 9:13; Revised Standard Version).
The test begins when the opportunity to serve presents itself. Are you ready to seize upon it?
The next stage of the test revolves around motive. Are your motives really to give, or are you serving to get something from a fellow single?
The next stage centers on longevity. Can you maintain this mind-set of serving beyond just a singles weekend—and make it a way of life?
As one minister wrote to the singles coordinators at the Feast, "[God] is trying to create a beautiful, World Tomorrow, family-oriented singles culture in His Church. Being a single in God's Church should revolve around serving the body of Christ and building friendships."
Men: Put more effort into serving your sisters in Christ. They need this Christian companionship. Give your sisters an opportunity to thank God for your service to them.
Ladies: Be approachable. Smile. Sure, have a meek and quiet spirit—but that doesn't mean being a mute. Have personality, and ask God for more of it. Give your brothers an opportunity to thank God for your service to them.
Pray for and pull for one another (verse 14). We are experiencing family on the God-plane level! "Thanks be unto God for his unspeakable gift" (verse 15).
Thank God, singles! And serve God's Family through dating, singles activities and every other way God makes available to you in order to produce more gratitude in each other for all that God has given!