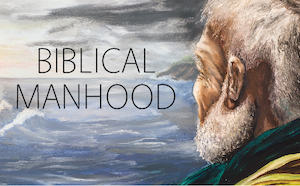 Jesus Christ showed an acute awareness of suffering. Not His own suffering, but the suffering of others. Before He became a human being, the God who became Christ heard the cries of the Israelites in bondage. After He delivered His people, He commanded them to give special care to the widows, the fatherless, the needy.

Even when the Israelites neglected Him, disobeyed Him, ignored Him and rebelled against Him, He showed compassion on them. Then He showed a supreme act of compassion by becoming a human being. As a human being, He subjected Himself not only to death, but to the worst torture and execution ever! And His Father went through agony watching this happen to His Son.
We serve a God of compassion.
What did Jesus Christ do while He was a human being? He did not spend all His time with those who were wealthy or interesting or popular. He spent much of His time with the poor and the suffering, and He expended much of His effort alleviating that distress.
Throughout His earthly ministry, Christ continually taught and preached and healed. "But when he saw the multitudes, he was moved with compassion on them, because they fainted, and were scattered abroad, as sheep having no shepherd" (Matthew 9:36).
This is how the powerful, sinless God feels when He looks on this pitiful, sinful world. His perspective is not detached, intellectual, analytical. Christ was moved with compassion: He felt pity, concern and sympathy to His very core.
Notice just how Christ responded to what He saw. "Then saith he unto his disciples, The harvest truly is plenteous, but the labourers are few; Pray ye therefore the Lord of the harvest, that he will send forth labourers into his harvest" (verses 37-38).
Christ reacted to this suffering by thinking about the Work. He thought, What can God's Work do right here and now to relieve this suffering?
Today, Jesus Christ is the glorified, majestic God almighty. And He is still concerned about the Work. His Work today is still aimed at extending compassion and helping people in their suffering and distress.
The compassionate Head of God's Work has assigned you and me a specific, empathetic mission: to pray for the Work. He wants us to pray for more laborers, more reach, more power. Why? To help people! So that more people will be harvested into His Family.
Jesus Christ has done so much to express His love, including sacrificing His life on the stake. But perhaps what He has done more than anything—every day, continually—is pray. Jesus Christ prays as an Intercessor for those who suffer. He is your Intercessor and mine.
You and I have a Christ-like duty to act as an intercessor.
This responsibility applies to everyone who follows Jesus Christ. But consider specifically how intercession is key part of biblical manhood.
God has assigned men the duty of protector. This means protecting others from harm, from degradation, from deprivation. This means recognizing those who are in need and taking action.
Perhaps the most basic, day-to-day duty of the Christian male intercessor is prayer. It is the same fundamental duty that Jesus discharged and that He has continued to fulfill as our Intercessor at the right hand of God. Before the Father, He pleads the cases of those in need—for instance, you!
This is one of Christ's full-time jobs. He is involved in all of our prayers as our High Priest, our Advocate, our Intercessor. He instructed His people to pray in His name. How much of His life is full of the work of intercession—interceding in prayer for you! This brings His mind into frequent focus on your trials, your problems, your difficulties, your requests.
And Christ instructs you, as a Christian and as a man, to intercede for others the way that He does. He wants you to think like a priest of God. That means thinking about what another person needs and beseeching God on his or her behalf.
In many ways, your prayers are an indicator of your conversion. They reveal how much of Christ's mind you have. They reveal how much you think about and advocate for the needs of others. That includes people in your family, in your congregation, in God's Church and Work, and in this world. How much do you think about relieving their suffering and distress?
The more you intercede, the more Christ is in your prayer.
This is not only a measure of your conversion, it is also a tool to increase your conversion. If you drive yourself to pray more for others—to turn aside from praying for yourself and discipline yourself to pray for a member with a health trial or a friend struggling to overcome a shortcoming—then you are thinking and acting more like Jesus Christ.
We all need to continually strive to make intercession the main part of our prayers.
Here are a few practical points on how to become a more priestly, more Christ-like intercessor for others when you pray to the Father through your own Intercessor.
• Diligently maintain your prayer list. This is a very specific, actionable step we need to take. When you hear about something that would be good to pray for on someone's behalf, you might think, I'll remember that. But with something as important as this, we need to write it down. It is not a bad idea to record the names of all the brethren in your congregation and to note situations as they come up. Looking at those names also helps you realize that everyone is going through something. This also helps you be aware of people you haven't talked with in a while. In your Sabbath conversation, seek out those who are in trial. Be alert during your discussions and listen for details you can pray about. During the week, give them a call or visit them when needed and where possible. How much of an effect can you have on someone else's trial! What if God would intervene for that person if you fervently prayed for them?
• Let God judge others—not you. If you see someone struggling with an attitude or a coarseness or a sin that you find off-putting, don't be put off! Do not judge that person. Rally to that individual, and passionately pray that God will help him! If you are having trouble with someone, pray for that person, and your thoughts might turn from criticism to empathy. When we beat our prayers fine like incense, we have to meditate on others—their hopes, their needs, their struggles. That helps us think about them more like God does. You might set a goal to pray for a specific number of people every day—even hold out your hand and count them down on your fingers to keep yourself on task. Evangelist Stephen Flurry has described the "30-Plus Program" of prayer, which divides half an hour of prayer into several parts. One of those parts is a 5-minute segment praying for the brethren. Perhaps you can pray for five people during this time. If you pray an hour a day, that would be 10 minutes—a good minimum of daily prayer interceding for others.
• Pray daily for your wife and your children. Praying for your wife and your children is part of your duty as their protector. You need God to watch out for them and to keep them safe physically. You also need to beseech Him to protect them spiritually. You know their weaknesses and faults. You need to be like a minister praying for the people he shepherds—and it is a sin for a minister not to pray for the people he shepherds! (1 Samuel 12:23). In principle, that is true of a man's duty toward his family.
• Fuel your prayers for God's Work with compassion for the world.
Christ's example in Matthew 9 is striking: He had compassion, not just on members of His family or on His disciples, but on the unconverted, "the world." He deeply empathized with the multitude and implored His followers to pray for a more effective Work to reach them! Paul wrote that we should make supplications, prayers, intercessions and even thanksgivings for all men! (1 Timothy 2:1-4). God instructs us to think about all mankind because His plan includes all of them! He wants all to be saved and to learn the truth, not just the small number of people who are in His Church right now. God wants us to develop the "largest audience possible" mind-set in our daily prayers. Bring more of God's thinking into your prayers: Show real concern and love for all men.
• Pray regularly for those who have left God's Church. Romans 16:17 gives God's instructions for what to do when someone in His Church thinks and acts contrary to Him. He says to put them out of the Church and to suspend your relationship with them. Every time someone is marked in this way, an announcement is made that we should not bear them ill will but should pray for their repentance. Do we? This is a matter of eternal life and death for this individual. Is your love deep enough to think about, care about, and remember to pray for these people? These situations reveal God's love in its purest form: He loves and extends mercy to those who hurt Him time and again—and that includes us! It grieves God to see a member turn away from Him and toward Satan and his way of hate, misery and pain. God wants to save His children, and He wants you to show patience, love, mercy and compassion on all His children. One of the most powerful ways you can do that is through fervent intercessory prayer. We need to pray even for the person who hurts us.
Jesus Christ prayed, "Father, forgive them; for they know not what they do." He is the great Advocate, the High Priest, our Intercessor. He prays to the Father on behalf of the weak, the sick, the needy, the ignorant, the suffering. He wants you to do this too. So use intercessory prayer to develop more of God's compassion—every day.