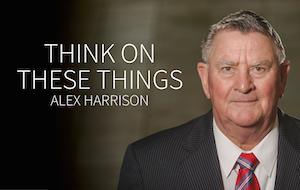 "Where­fore comfort yourselves together, and edify one another, even as also ye do" (1 Thessalonians 5:11).
From time to time, we in God's Church face times of sorrow. When someone loses a mate, a parent, a child or a very close friend—especially unexpectedly—the heavy burden of shock and grief can be overwhelming. It's sometimes too much for one person to bear.
Even though it may seem like a horrible nightmare that will go away, it doesn't. It's a severely deep wound, and that wound is going to be a long time healing.
No one likes to think about death. When someone we know loses a loved one, we can feel inadequate and uncomfortable about talking to him or her about it.
How do you express to a person that you really care when death has taken away someone he or she loves?
This is truly a time to practice the admonition in 1 Thessalonians 5:11, "comfort yourselves together …."
During the few days before the funeral, the mourning family usually receives much attention. Food is brought in, condolences are expressed in person or by telephone and by cards and letters.
This flood of outgoing concern is good for the bereaved family. God's love and comfort is administered; the heavy burden is shared and therefore somewhat lightened through this contact with warm, caring brethren.
However, after the funeral, most people again quickly put the thought of death out of their minds.
But to the family involved, the person who died is still very much a part of their lives. The mourning and pain go on. They need compassionate, concerned friends now more than before to help them share the load.
There are basically four stages of bereavement: 1) the shock and numbness of the death; 2) emotional turmoil; 3) a sense of emptiness, loneliness, despair, anger, even depression; 4) finally, acceptance. These stages can take years to pass.
So how can you help?
First, ask God to help you approach the grieving person in a way that will be most helpful to him or her personally. Each person is an individual and responds differently.
Then, ask the person tactfully how they are doing. Show them you understand it is an emotionally trying time for them. Give them the opportunity to talk about their loss. Tell them that you are praying for strength for them to go through this trial—and then be sure that you do it.
Realize, it isn't great speeches that comfort. A pressed hand or embrace, that sympathy in your eyes, communicates much more.
Use wisdom; be extremely careful not to add to their burden by even suggesting that if they had done such and such, the tragedy might not have happened. Most people tend to feel guilty after an unexpected death of a loved one, wishing they had done something differently, said something they didn't, or expressed more love.
Look for something positive in the actions of those concerned; strive to build up and encourage those affected most—such as, "You've certainly been a great example in the way you are handling this trial," or, "Your faith in God and dependence on Him through this painful time is an inspiration to me." Be honest though; be sure to express genuine feelings.
Avoid saying, "Oh, you'll be all right." That's not much comfort to the one suffering a painful loss.
Remember, there is a time to shed tears and mourn. And we are able to help bear one another's burdens. "That there should be no schism in the body; but that the members should have the same care one for another. And whether one member suffer, all the members suffer with it; or one member be honoured, all the members rejoice with it. Now ye are the body of Christ, and members in particular" (1 Corinthians 12:25-27).
Don't feel awkward about going to one of your brethren and showing concern in a time of grief and mourning. People are different—some may not want to talk about it right away. Many, however, want to talk to someone truly sympathetic and compassionate.
That's the time for creative friendship. Suggest a definite plan: a luncheon; invitation to dinner; a telephone call, especially on the Sabbath—this will help rescue lonely hours. My mother, who lost her husband four years ago, continues to tell me of these empty, lonely feelings; she said they are getting better, but still linger. Share your family if a person is not used to going places alone, especially on the Sabbath. Don't wait for them to ask for help; they often won't. Take the initiative and show concern.
Brethren, comfort is an interesting word. It means to come to someone with strength to exhort.
Remember, there are four stages, and we can easily forget that after the first two have passed the next two are equally important.
As a final word, again, these stages can be summed up as: 1) the shock and numbness of the tragedy; 2) the emotional turmoil; 3) after the funeral is over—a sense of emptiness, loneliness, despair—even depression; and 4) the acceptance.
Your comforting will help all the way.
Think on these things.