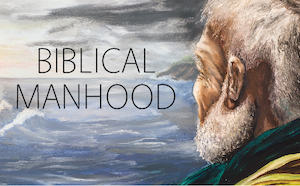 We live in the Laodicean era of God's Church, a time when truth has been cast to the ground (Revelation 3:14-21; Daniel 8:12). Laodiceanism is also the spirit of the age—the spiritual disease within the Church also permeates our society.

Ours is a world of You do your thing, I'll do mine. It is a world that tolerates or celebrates every perversion of sex roles—but hates the roles established by man's Creator!
"I know thy works, that thou art neither cold nor hot," God says directly to His people in Revelation 3:15-17. "I would thou wert cold or hot. So then because thou art lukewarm, and neither cold nor hot, I will spue thee out of my mouth. Because thou sayest, I am rich, and increased with goods, and have need of nothing; and knowest not that thou art wretched, and miserable, and poor, and blind, and naked."
The modern man is weak, effeminate, indeterminate. He is blanketed in a spirit of lukewarmness and numbed by materialistic luxury and idleness.
The godly man, by contrast, is strong, masculine and on fire for the truth! God's Church needs men who are burning with zeal. His Work needs men who are ardently devoted to God's purpose. God's children need fathers and husbands who are keenly engaged in their daily lives, leading for God the way He ordained.
Does that describe you? Only to the degree that you go after it.
The Western world is full of the spirit of contributing nothing. Rare are the men who make good things happen. Rare are the men who will drive themselves to make a positive difference in others' lives. We are surrounded by men who, at best, may be wealthy or intellectual, but who are spiritually wretched, miserable, impoverished, blind and naked!
Even in God's Philadelphia remnant, we all tend to shrink back, to become complacent, to slip into ruts.
If you are not fighting this spirit of corrupted manhood, you will succumb to it!
What counsel does God give the person afflicted by the attitude of rich, luxurious and spiritually destitute Laodicea? "[A]noint thine eyes with eyesalve, that thou mayest see" (verse 18).
We need to open our eyes to the gaping needs that are all around us, needs that have opened up because of the myriad voids of biblical manhood.
Those shortcomings must be met by godly men who see them and charge forward to fill them. Men who can see the vision of what God created them to be. Men who can recognize their own deficiencies, rely on His Spirit to fill the gap, then act to help others.
We need to see where our families need more of our attention and presence. We need to see where our congregations need more Christian manliness. We need to see where this Work lacks and where God is leading us to support it.
God says in verse 19 that if He loves us, He rebukes and chastens us. The modern man wilts under even gentle correction—or promptly begins justifying himself and deflecting blame onto others. The godly man embraces correction and zealously repents.
Because of the inescapable spirit of this age, you may not feel like studying biblical manhood. Nevertheless, biblical manhood is a subject every man needs to be studying. Satan has ravaged manhood to the point that each of us is in danger of losing it! But God's Church still has this truth!
If you don't find yourself excited about it, study it anyway. Because God is excited about it. Study it and He will give you His excitement!
To fulfill any job, you must be educated in your responsibilities. The more challenging the job, the more effort you need to devote to that education, typically on an ongoing basis, continually striving to get better.
This is absolutely true of your job as a man—perhaps the most challenging job God gives you! You are in the office of a father, of a husband, of a Christian man. Do you see what God expects you to do with that position? Whether or not you study it, you are responsible for fulfilling it!
This is why it is so important to study this awesome role. God can do so much in your life through this role! He can cause your wife to blossom spiritually, emotionally, intellectually. He can nourish your children into joyful, wise, enjoyable young people. He can make your home life enriching and wonderful. He can grant you promotions at work. He can make you a different man, your family a different family, and your work a different work!
But you have to see where God wants to lead you, what He wants to make of you, and how He wants to bless others through you.
Biblical manhood is a weapon to destroy selfishness and to eradicate the wrong thinking, the wishy-washy perspectives, the inward focus of modern manhood.
The office of a godly Christian man shapes you. You can't shy away from it: You were born for it, and God wants to use it to help you grow—not just into a Christian leader, but into a born son of God!